The µPanel system consists of a programmed WiFi radio (µPanel WiFi module), a free mobile App (µPanel App) and an optional and free Cloud server. All these three elements allow the user to control any electronic device connected to the µPanel WiFi module, either locally or through Internet, by means of smartphones and tablets. The uPanel WiFi modules can work with all electronic devices equipped with a serial port, such as Arduino boards, Raspberry boards, or any other microcontroller-based device.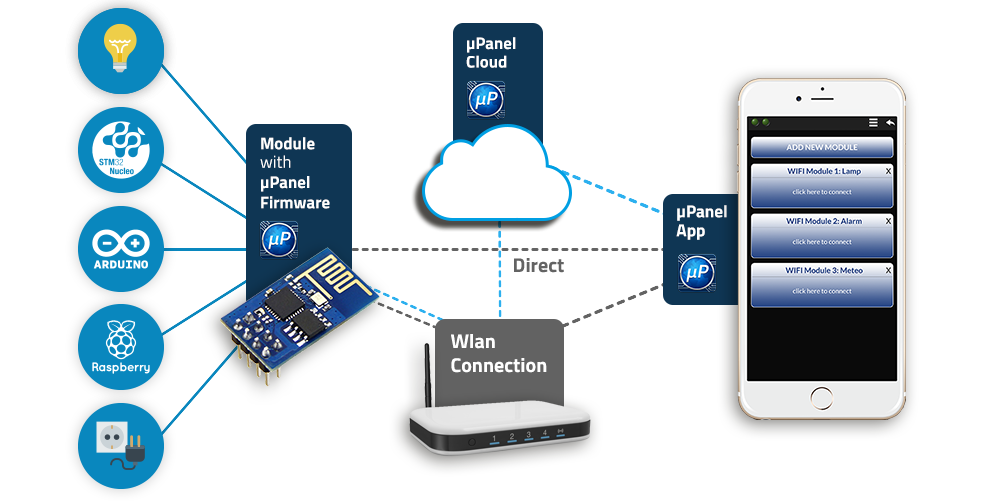 The µPanel APP basically shows the graphical panel (i.e. virtual APP) that is sent by the electronic device through its serial port and allows the user to interact with it. Thanks to a new graphical language (HCTML), the virtual App is completely defined by the electonic device (e.g. Arduino) through a short text line, without requiring the use of libraries or particular resources. The µPanel system is ideal for makers working on very small devices with limited amount of memory, but also for companies that want to quickly add a graphical remote control to already existing products.
In other words  µPanel permits to add a fully customised graphical interface (virtual App) to any electronic devices, without the need of programming the mobile APP and without the need of knowing any wireless communication protocol. Nevertheless, the panel that will appear on the smartphone is fully customizable! The designer of the electronic systems can completely define the structure and layout of the panel, including indicators, controls and all other elements required to monitor and control the electronic system in the most efficient way.  In addition, it is possible to implement custom and complex IoT solutions, thanks to powerful functions that can access TCP/UDP sockets and thanks to an integrated File system and File transfer.
What can you do with µPanel system?